A relationship is like a fine bottle of old world Bordeaux, often simple and immature at the onset but acquiring depth, nuance and intensity with age. So, whether you're looking for a quaint meetup spot for your most recent right swipe on Tinder or an upscale place to celebrate a night without the kids, I've got you covered. Here are my favorite wine bars in NYC.
1. The Ten Bells
(pictured above)
247 Broome St., LES
If you're on a budget, this cozy wine and tapas bar is the place to go — it hosts happy hour every day until 7 p.m. Carafes of French wine start at just $15 and is a perfect accompaniment for the array of affordable Spanish tapas and $1 oysters. If you're going for a light dinner, you'll love their assortment of pairing plates—don't miss their Tuna Stuffed Piquillo Peppers, a local take on the spicy favorite.
2. June
231 Court St., Cobble Hill, Brooklyn
A standout bar that serves up biodynamic wine, June is a quirky anachronism situated in Cobble Hill, Brooklyn. The interior is decorated to mirror a rustic yet inviting train car. While some of their specialty wines may seem pretentious, I've found their eclectic imports are an experience in connecting with winemakers from across the globe. If your date happens to love farm-to-table goodness, cozy up with a glass or two of Europe's finest here. Their fresh salads topped with ricotta are also a delight.
3. Lois
98 Avenue C, East Village
I love the no-tipping policy at Lois, because when I'm 4 glasses deep, the last thing I want to do is math. Interestingly, you won't find bottled wine here; they're all on tap. This is a fad I can truly get behind. It recalls the large kegs in Italian Enotecas where laidback locals can fill up a glass from the tap for pocket change. The simple and familiar food doesn't skimp on quality. If you ever feel a bit intimidated by wine varieties or are just looking for an unpretentious setting to nurture a budding relationship, then step right this way.
4. Corkbuzz Wine Studio
13 E. 13th St., Greenwich Village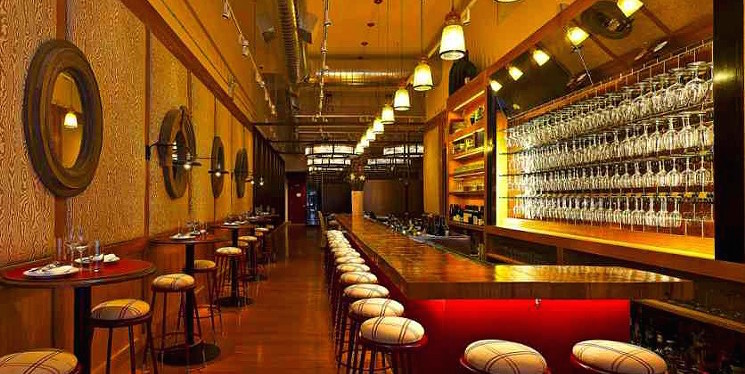 Laura Maniec is the world's youngest master sommelier and shares her passion through on-site wine classes. The Corkbuzz Wine Studio also brings together other sommeliers, grape growers and wine enthusiasts to hang out and learn from one another. If you can't go to the vineyards of Tuscany this weekend, learning about them through an immersive wine class is the next best thing. They also serve up brunch just in case your date ends up extending through the night into the next morning… Pro tip: their Cavatelli Pasta with Lobster is best devoured just after Blind Tasting Happy Hour (4-6 PM on weekdays).
However, if you're just looking to spend an evening at home, we have you covered over at VINEBOX. Share a glass with us!